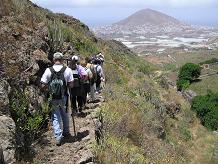 Discovering Gran Canaria and the option of downloading the GPS navigation system.
The new technologies have come into our lives so quickly that we are hardly aware of everything that they can do for us. It is also true that more and more people now own a PDA or Handheld, many of which offer the option of GPS navigation.
This book offers all readers the opportunity of walking the routes while guided by GPS (Global Positioning System), which incorporates the way points (points of interest), as well as the possibility of adding multimedia elements such as videos and photos for certain routes.
Although there has been little experience of this technology in this particular field on the island, the option of GPS navigation in the mountain ranges of the Spanish mainland is available to all PDA or Smartphone users.
Readers who wish to download those options should note the following:
1.-You must visit the webpage: http://turcon.blogia.com to find the link to download the files.
2.- You must have purchased the book to be able to access the downloads.
3.- The route data were recorded on GPS and processed by professionals; however, we should inform you that there is a +/- 10 metre margin of error in distances.
4.- Specific software is needed to be able to read the way point files and tracks correctly. On the website you can find links to the most suitable programmes to handle this type of file.